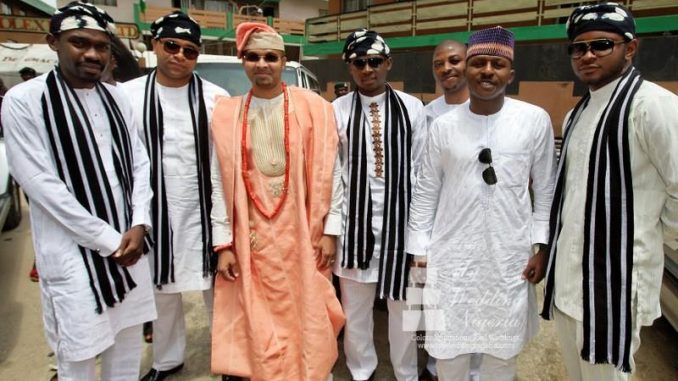 Note: If you see a nigerian wearing this weaved Black and White colored cloth or bandana or wrapper, then that person is of Tiv ethnicity. Tiv people are an ethno-linguistic group or ethnic nation in West Africa. They constitute approximately 2.5% of Nigeria's total population, and number over 6 million individuals throughout Nigeria and Cameroon.The Tiv are one of the largest ethnic group in Nigeria. Tiv language is spoken by about 6 million people in Nigeria, with a few speakers in Cameroon.
Most of the language's Nigerian speakers are found in Benue State of Nigeria. The language is also widely spoken in the Nigerian States of Plateau, Taraba, Nasarawa as well as the FCT Abuja. It is part of the Southern Bantoid Tivoid family, a branch of Benue-Congo and ultimately of the Niger-Congo phylum. In precolonial times, the Hausa ethnic group referred to the Tiv 'Munchi' a term not accepted by Tiv people. They depend on agricultural produce for commerce and life.
The Tiv people from the middle-belt region of Nigeria in West Africa can be found along Latitude 6 degrees 30 minutes to 8 degrees North and Longitude 8 degrees to 10 degrees East of the equator. The Tiv people are said to have originated from south-central Africa, with over 20 generations recorded from Tiv himself to the present.
Traditional weaving is an important cottage industry among Tiv speaking people of Benue State. It is one of the enterprises in the state that is passed from one generation to another and many of those who are engaged in it inherited it as family business.Over the years, master weavers have produced brilliant and popular designs that have earned the state as a notable centre for such fabric in the country.
The industry has blossomed dramatically among the people especially these days when many occasions demanding traditional attires are on the increase, thus increasing its market share. Most notable among the fabrics are Anger (the stenciled stripped black and white attire). There are many other types and each of them is designed specifically for an occasion. There is Tugudu, which is used for burying the dead, Ivvavtyo, exclusively used by women.The other brands of fabrics are Lishi, Gbev-whaa, Godo, Gurugu, Chado, Deremen and Gbagir. Patronage of the products comes mainly from private individuals and sometime government. The technique of weaving depends on a simple technology that is slow but efficient for its needs and does not take more than one person to weave, dye and package for sale. It is a highly respected industry which has created a local economy for the people. Although the clothes are now done in the cities like Makurdi, the Benue State capital for easy accessibility by lovers of the native fabric, the traditional Tiv settlements remain important places where trading take place because many buyers believe the best qualities are the ones made in these communities.
BY: Kweku Darko Ankrah