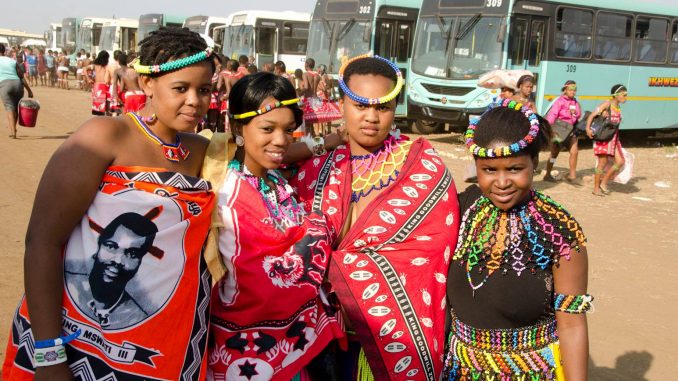 Four Beautiful Swazi and Zulu girls posed for a friendly shot during annual Reed dance initiation ceremony in South Africa. Nguni or Mnguni or Ngoni is the collective name for a major group of Bantu-speaking peoples belonging to the African Negroid racial group living Southern Africa,
In Nguni legend, Mnguni was the founder of the Nguni nation in southern Africa. Mnguni's name derives from the word Nguni, the name for the majority ethnicity in South Africa. It includes the Zulus, Swazis, Ndebeles, and Xhosas, among others. Most of the different Nguni nations trace their lineage to Mnguni, the king of the unified (pre-Zulu, pre-Xhosa, pre-Swazi, and pre-Ndebele) Nguni nation in South Africa. He is said to have come from the northeast about 1000 years ago. Nguni are members of the great bantu migration from West Africa. Other historical sources also avers that the great ancestors of Mnguni are thought to be a nomadic group of Egyptian and white mixture. Much of the Nguni Nation's culture retains very similar aspects of the Ancient Egyptian Empire.
The Northern Nguni comprise the Swazi, Zulu, and Ndebele peoples of the highveld; and the Southern Nguni include the Xhosa, Thembu, Bomvana, Mpondo and Mpondomise.
BY: Kweku Darko Ankrah