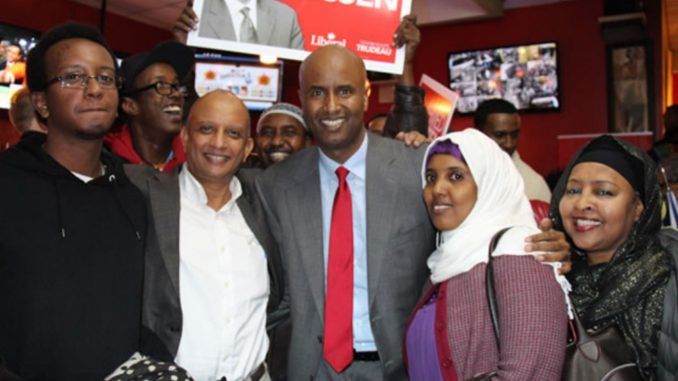 A former Somali refugee is now the new Minister of Immigration in Canada following his appointment in the latest cabinet reshuffle by the Canadian Prime Minister Justin Trudeau.
Ahmed Hussen, who arrived in Canada in 1993 as a teenage refugee, will now be in charge of the important and often controversial portfolio, determining who is allowed to enter Canada.
The appointment of 40-year-old Hussen to the Canadian cabinet comes at a time when Somali migrants around the world are facing serious rebuff, with some countries like the U.S. accusing them of furthering terrorist ideologies.
Those who know him say he is unquestionably qualified to run the ministry since he will be able to draw from his personal experience as a child refugee fleeing war in Somalia.
"I am a Canadian. Somali is my heritage and I'm proud of my heritage but I have a lot to contribute to Canada. And I'm a mainstream guy. I'm not limited by my community," Hussen was quoted by the Africa Review.
Robust Human Rights Advocate
Hussen's colleagues tag him as someone who is not afraid to talk openly about the problems that the Somali community faces in Canada.
Mahamad Accord, his longtime friend, told Africa Review that Hussen is gifted with the ability to address a complex problem diplomatically without putting his community at the risk of being stigmatized.
His diplomatic flair enabled him to fight for the interests of his community in Regent Park, a multi-ethnic public housing complex in downtown Toronto, where he lived with one of his brothers.
Hussen, a social activist and lawyer, was able to convince the Canadian government to upgrade the crime-ridden neighborhood without jeopardizing the accommodation of refugee tenants.
"He was someone who spoke with a calmness and an informed knowledge and a maturity that defied his circumstances, both as someone who was young and someone who had taken this awesomely courageous step of leaving Africa for Canada," former representative of Ontario, George Smitherman, said.
Speaking in the House of Commons last April, Hussen passionately spoke about the current problem of refugees drowning in the Mediterranean Sea saying that asylum seekers are not criminals.
"They are human beings in need of protection and assistance and deserving of our respect," Hussen said.
Tough Job Ahead
With his new role, Mr. Hussen is faced with numerous challenges, including the hundreds of refugees from Somalia and other African countries moving to Canada.
His predecessor John McCallum recently introduced a contentious law that calls for the use of a lottery system to randomly choose 10,000 migrants seeking to enter Canada. Critics of this law say family reunification shouldn't depend on luck of the draw.
Hussen will also have to deal with the recent decision by a section of liberals to reduce Canada's intake of Syrian and Iraqi refugees.
Prior to his appointment, Hussen was serving as an Member of Parliament in the House of Commons representing York South-Weston.
BY FREDRICK NGUGI